Curbside pickup at our Reno, NV warehouse
Curbside pickup is available for orders over $50. During checkout, choose "Pick Up" as your shipping method. Your order will be ready for pickup the next business day at our Reno, NV warehouse.
Our warehouse address is:
1910 S McCarran Blvd
Suite 200
Reno, Nevada 89502
Enter the McCarran-Farms Commerce Park at the McCarran Blvd & Mills St intersection and drive to the back of the second warehouse on the left.

The pickup door is located at the top of the first ramp at the back of the building. After you retrieve your pickup order, please exit the property the same way you entered.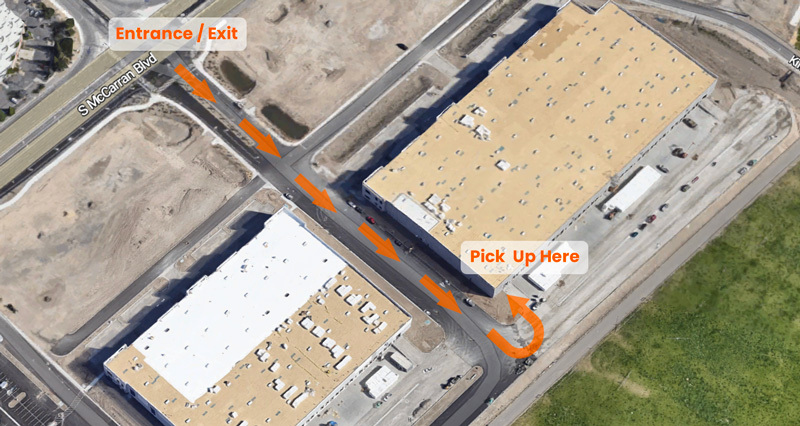 When can I pick up my order?
You can pick up your order one business day after placing it. Our business hours are 9 am to 4 pm, Monday through Friday.
How long can you hold my order?
We can hold pickup orders for 14 days after they're placed. If you're unable to pick up your order within that time frame, please contact our support team for assistance.
How are pickup orders packed?
Pickup orders are not packed to be shipped via mail. Your pickup order will be packed in a manner appropriate for transport by vehicle but is not intended to be shipped by a carrier.
Can third-party carriers use curbside pickup?
Due to warehouse limitations, curbside pickup is reserved for CandleScience customers only and may not be used by third-party freight carriers.
How is sales tax charged for pickup orders?
Nevada Sales Tax is charged for all orders processed for pickup at our Reno, NV warehouse, including orders placed by customers who reside in different states. If you are currently approved by CandleScience as a tax-exempt customer, sales tax will not be charged.
Can I shop in person?
Orders cannot be placed at our Reno, NV warehouse, as it is not a retail location. All CandleScience orders must be placed online.
Pickup Order Processing Time:
Once your pickup order has been submitted, it will be ready to collect the next business day. (excluding holidays)
Pickup Hours:
Monday - Friday: 9 am - 4 pm

Saturday - Sunday: Closed