While many of our fragrances can be used in melt and pour soap, not all are safe to use on the skin. We recommend looking at the product page for the individual fragrance you'd like to use since the usage rate can vary between scents.
On the right-hand side of the product page, look for the Properties section. We will list our recommended usage rates here! For example, this fragrance will be safe for use in soap between 2-3%.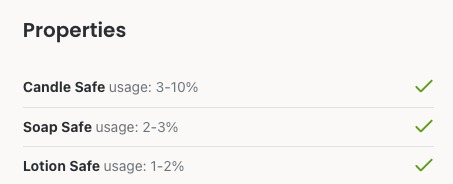 The easiest way to find our skin-safe fragrances is to utilize the Fragrance Finder tool on our website. You can find it by clicking here! All fragrances usable in soap will be viewable under the Soap Safe selection under the Application heading on the lower left-hand sidebar.